New UI
It was a long work, but it was needed! UI is now smaller, easier to use, with some additions like a report panel at the end of each turn, giving you more information about the well being of your survivors.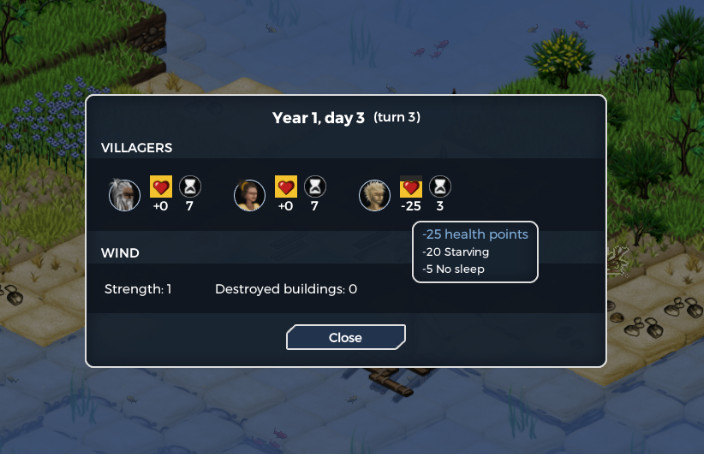 We also reworked keyboard shortcuts, so go take a look if you like to use the keyboard rather than the mouse.
Shells, crabs and frogs
Finally, shells respawn! A reproduction behaviour has been implemented: once a year, every shell "breeds": it produces another shell, giving there is space on its natural environment, and there are not too many other shells around.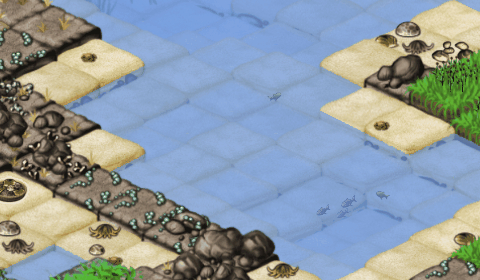 The same behaviour is used for crabs and frogs, two new animals that offer new sources of food.
Removed stockpile
You no longer need to place stockpiles before harvesting resources. Items will simply stay on the map, clearly identified by a white outline. Next step is to add proper warehouses to store all those items and protect them from the storms.
Minor changes
Now, Snow only appear on higher parts of the islands on the first day of winter. On the second day, it covers more land. On the third day, ice forms on the coast. On the fourth day, ice recedes, kind of announcing spring is close.

Balanced strings and bamboo amount required for fishing buildings and floating bridge
Bugfix
LOTS of bugs fixed by the new UI!

Zucchinis are no longer immortal, ever producing top tier vegetables. They die in winter along with tomatoes and other annual plants.

Snow no longer persist in spring

Tool durability and villager time updated every time an action is performed

Added missing translations

Prevented appearance of fake buildings

Fixed storms taking way too much time to finish

Fixed static tornadoes

Building rotation is now properly restored on loading

Firecamp can now be destroyed by a tornado

Fixed new buildings appearing damaged

Fixed old skills reappearing

Prevented selected character changing when zooming

Moving map with mouse sometimes didn't work, everything is fine now

After 10 villagers, empty rafts no longer arrive

When all villagers died at same turn a newcomer arrived, game was lost (because for a very short time, there were no alive villager on the island and the game detected it). Game is no longer lost on this occasion now.

Rationing cursor position is now properly restored on loading